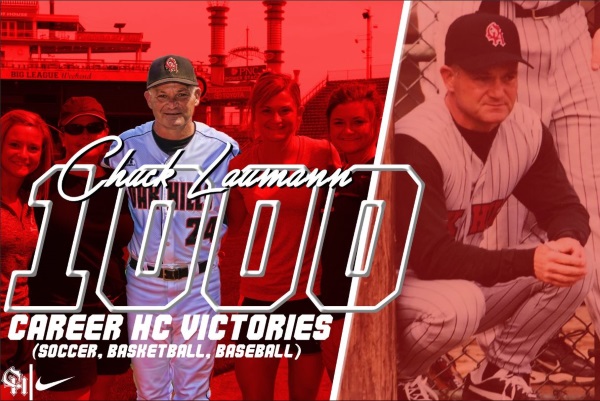 Oak Hills Baseball Coach Chuck Laumann got his 1000th career win as a Head Coach with the team's 4-3 win over Lasalle in the Reds High School Showcase on Thursday, May 9th.
Laumann, a 1981 grad of Oak Hills High School was a member of the Oak Hills 1980 State Baseball Championship teams, as well as the 1980 baseball and 1981 soccer teams that were state runner-up. He was named all-state in 1980 in baseball and soccer and was the Cincinnati soccer player of the year as well. Laumann started his college baseball career at the University of Cincinnati and finished at Ball State where he was a 2-time Academic All-MAC member and a 2-time Regional Academic All-American.
Laumann taught Math and Fitness Ed for 32 years, four at Woodward High School and the last 28 at Oak Hills High School. During that time he has been an accomplished basketball, baseball, and soccer coach. He was named the Conference Coach of the Year for soccer in 1994, 1995, 1996, 1998, 2012, and 2015. In addition, in 1994, 1995, 1996, 1997, he was also named the Coach of the Year for baseball. Coach Laumann has amassed a host of other awards, including the Ohio Baseball Coaches Integrity Award and the Oak Hills Hall of Honor.
Coach Laumann has been an institution at Oak Hills High School. 1000 career wins is extremely impressive, but it pales in comparison to the number of lives that he has impacted. Oak Hills is fortunate to have someone of his magnitude making a daily impact on our students.