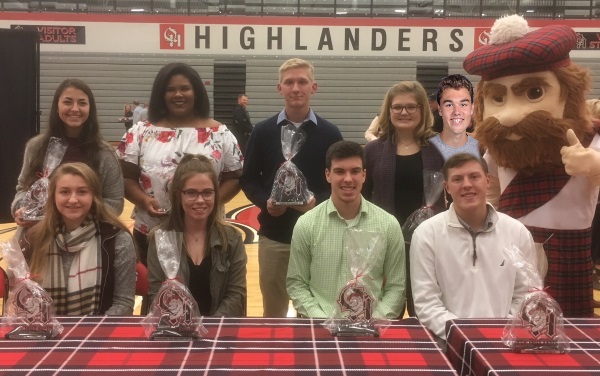 The Highlander Award is not an MVP Award in the traditional sense, but rather recognition of the person that exemplifies the best of what a coach wants in his/her players. The Highlander Award is given to the person in each program that best exemplifies the Heart, Attitude, Passion, and Leadership that every team needs to succeed!
From Left to Right, Front to Back:
Allyson Albertz - Girls' Soccer
McKenzie Becker - Girls' Cross Country
Balor Appiarius - Football
Zach Rudolf - Boy's Golf
Thalia Georges - Girls' Volleyball
Julia Galloway - Girls' Tennis
Dan Moster - Boys' Soccer
Lily Lang - Girls' Golf
Sam Seibert - Boys' Cross Country
We also awarded Community Highlander Awards to Amy Roy of O'Charley's and Dr. Fernando Martinez of Martinez Orthodontics for their support and commitment to Highlander Athletics!
The Athletic Department would like to thank the administrators, faculty and staff of OHHS (especially 7th bell teachers) for your flexibility throughout the fall season. We appreciate your support of our student-athletes!
Thanks to the OHHS custodial staff for the outstanding job they do getting us ready for and cleaning up after all of our home events.
Thanks to the Transportation Department for accommodating our schedules and for getting our student-athletes where they need to go safely and always treating our teams so well.
Thanks to Cassie Stevens and the DJ club for helping us out during the evening.
Thanks to Jenna Tharrington for designing the covers of our awards' programs for this school year.