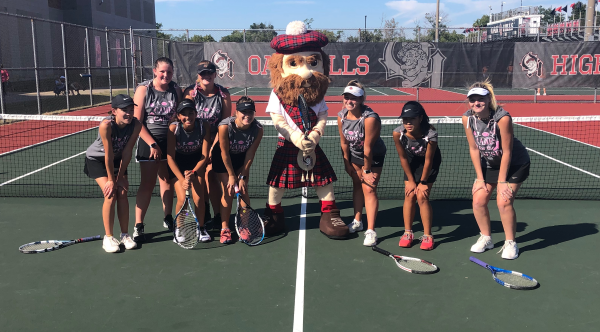 The varsity girls tennis team took on Mercy MacAuley in the Games for the Cause. The girls won 3-2 in a tight match. At first singles Mia Ziebro won 6-3, 6-3. At second singles Gabrielle Kadakia rolled to a 6-1, 6-0 victory. At third singles Abigail Miller battled, but ultimately fell 7-5, 6-2.
The girls needed to pull out one doubles court to clinch the victory for the team. At first doubles Molli Malone and Avery King were paired up together for the first time. They found their rhythm and chemistry in the second set, but it wasn't enough as they fell 6-4, 6-4.
The second doubles court were led by seniors Caroline Eichhorn and Mackenzie Hoy. The girls were able to hold off Mercy MacAuley, as they won 6-4, 6-3 and sealed the victory for the team.
The girls pushed their record to 12-6 on the season, and they are 5-3 in the GMC. They finish the regular season schedule next week with Mariemont at home on Monday and at Lakota East on Tuesday.
The girls begin their tournament season today as they kick off the Coaches Classic at Sycamore. They will be playing Sycamore "B," Lakota West, and Seton. They finish up the season next week with GMCs and then sectionals the following week.