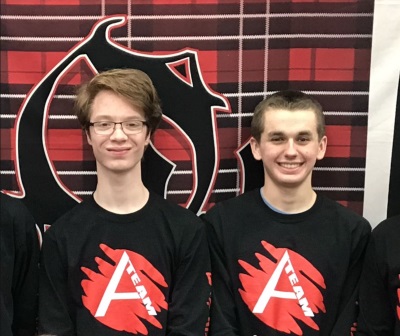 It is with great pleasure that I get to announce to you all that as a result of Wednesdays Academic Team coaches meeting, senior Sam Herzog was voted as the GMC co-player of the Year!! Also, senior David Lawson was voted to the First Team All GMC !!
Huge Congratulations to both of these young men. They are absolutely deserving of these awards and in my opinion, many more. They have worked so hard over the past 4 years. They are 2 huge reasons that we experienced our best finish in many years. Fourth place in the GMC overall.
Thanks gentlemen for your hard work and leadership in bringing the team and your school and community as well as yourselves to such a high standard. You deserve this recognition and will be greatly missed.
Thanks,
Coaches Vaske and Taylor
Pictured L to R: David Lawson and Sam Herzog