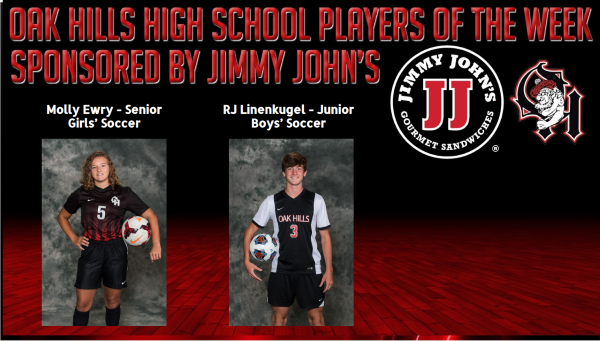 Congrats to this week's Jimmy John's Players of the Week!
RJ Linenkugel Jr. Boys' Soccer
R.J. scored three goals for a hat trick against Hamilton in Oak Hills GMC opening game, a 3-3 tie. R.J. has a 3.8 GPA and is a multi-sport athlete lettering in soccer (3 years), basketball and track. As a Freshman, he was a regional qualifier in Oak Hills 4x400 relay team. He also volunteers his time for a number of community service activities.
Molly Ewry Sr. Girls' Soccer
Molly, a Senior Defender, helped her team get two shutout wins this past week against Hamilton and Mercy-McAuley. She defended both teams best forwards, and helped our defense shut them down. Molly is also taking 1 Honors course, and 2 AP Courses.