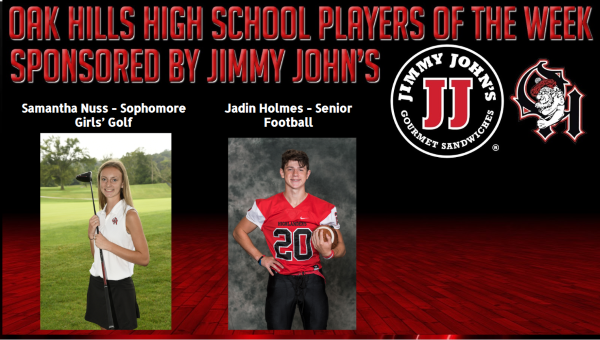 Congrats to this week's Jimmy John's Players of the Wee
Jadin Holmes Sr. Football
After missing a week due to injury Jadin returned to help lead the Highlander defense in takeaways with two while the defense totaled 4 takeaways (3 interceptions, 1 turnover on downs). He had 3 total tackles and two interceptions with one key interception in the red zone vs Lakota West. Holmes is tied 2nd in the GMC for interceptions this season.
Samantha Nuss Soph Girls' Golf
Sam has qualified to move on in the state tournament! She was one of the top-scoring individuals in the Sectionals tourney (18-hole score: 81!) and has qualified to play at Districts! She's been our team medalist in 14 of our 19 matches/tournaments. Sam has been one of our hardest workers, instrumental in our significant improvement as a team this year. Her overall effort, attitude and leadership greatly contributed to our overall winning season!