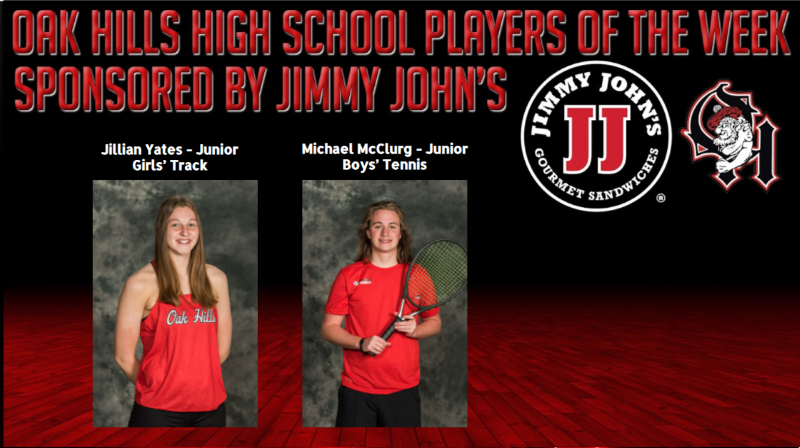 Congrats to the Jimmy John's Players of the Week for May 3rd
Jilian Yates Girls' Track Jr.
Jillian, a multi-sport student-athlete, has experienced some ups and downs this season but hasn't let the competitive edge suffer because of it. She threw a huge personal best in the shot put on Friday at the Ross Invitational to win the event. Her dedication and cerebral approach to the throwing events leaves no doubt that she has the ability to finish the season as the top thrower in the GMC and that her best tosses are yet to come.
Michael McClurg Boys' Tennis Jr
Junior captain, Michael McClurg, is currently 6-3 on the season playing either 1st or 2nd doubles. Michael has played with multiple doubles partners on the season, and always does a great job of leading his teammate. Outside of tennis Michael spends time working at the Kids Club at his church and is also a member of NHS.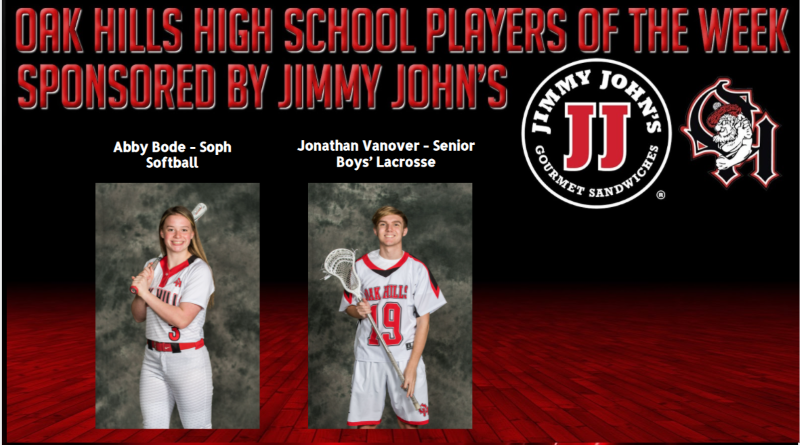 Congrats to our Jimmy John's Players of the Week for April 26th
Abby Bode Softball Soph
Abby Bode is a vital part of the Highlander's successful season. Abby went 10-14 (.714) swiping 6 stolen bases throughout the week. She hit a perfect 5/5 against Kings and had key offensive and defensive plays in the extra innings loss to Mason. Abby is a standout both on and off the field. She is a top student in the classroom and was just inducted in the National Honor Society.
Johnathon Vanover Boys' Lacrosse Sr
Johnathon played great defense in the 12-6 win over Wyoming and had multiple ground balls for the game. Johnathan is a senior leader for the Highlanders and will continue playing lacrosse at the collegiate level next year at The University of the Cumberlands.