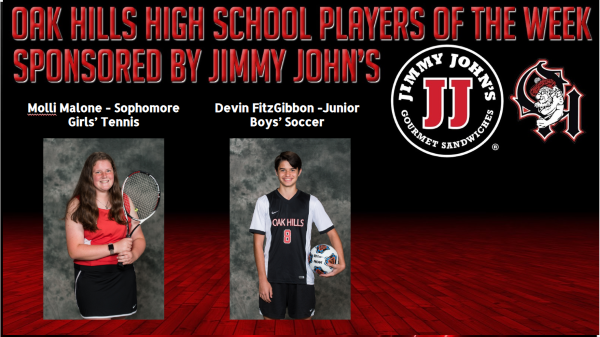 Congrats to our first Jimmy John's Athletes of the week for the 2019/2020 school year!
Devin Fitzgibbon Jr. Boys' Soccer

Devin netted our season's first goal from 30 yards out on a beautiful strike in the opening 3-0 victory against Winton Woods. In addition to scoring, he is controlling the center of the field by possessing the ball under continuous pressure. Devin's distribution, high work rate for supporting his teammates, composure under pressure, and field awareness are reasons the team started with a successful opening campaign.
Molli Malone Soph Girls' Tennis
Molli picked up her first two career wins this past week at first doubles over Turpin and Mount Notre Dame. She also lost in a three set thriller to Sycamore "Green." Molli has a 4.0 GPA while also being a member of the Partner Club and Key Club.