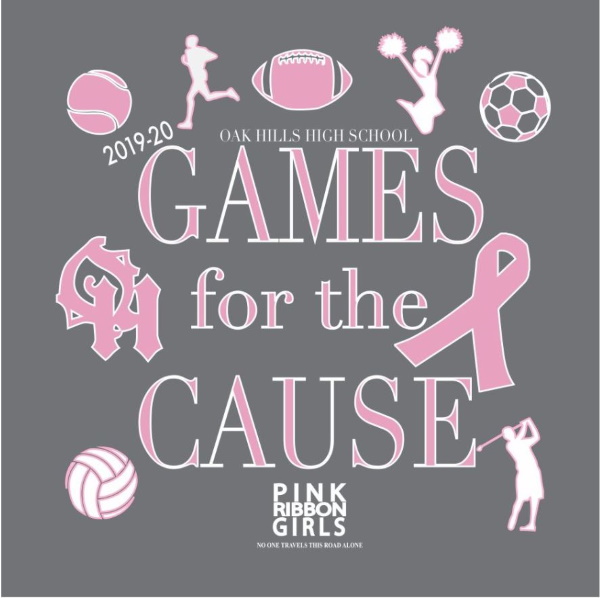 It's Fall season at Oak Hills High School and that means it's our Highlander Games for the Cause! We start early with our events with some great match-ups here at OHHS!
August 24th Boys' Soccer v Elder JVB 3p JV 5p Varsity 7p
September 7th Girls' Soccer v Mercy McAuley JVB 12p JV 2p Varsity 4p
September 20th Football v Mason 7p
September 28th Girls' Volleyball v Milford Freshman/JV 10a Varsity 11a
We thank you for your past support for our Games for the Cause and urge you to come out to our upcoming games which will have t-shirts for sale along with great raffle baskets, Pink Ribbon Girls swag, and baked goods!
Games for the Cause shirts are on sale for $10 now in the Athletic office at OHHS and will be sold in all OHLSD schools starting Thursday, Aug 22nd. Checks should be made to OH Athletic Boosters (OHAB.)
We are proud to say that former OH student-athlete Abby Hulsman (Class of 2019) created our design this past spring in Kristy Kopf's graphic arts class! Thanks to sophomore Riley Ludwig for standing in for Abby for the picture!
We are again partnering with the Pink Ribbon Girls which is an organization that provides free direct service to those with breast and reproductive cancers throughout Ohio. They serve those with any stage of cancer and there are no age or income restrictions! PRG provides healthy meals, housecleaning, rides to treatment, and peer support. All proceeds will go to PRG in our area!
Thanks to the PRG for the shout out to OHHS on Fox 19 News on Monday morning while promoting all of the area Pink Games this season!
A HUGE thank you to our shirt sponsors:
CR Landscaping
Carl McClurg Jr - Investments, Insurance, Planning
Anne G. Banta DDS - General Dentistry
Martinez Orthodontics
Bick's Driving School