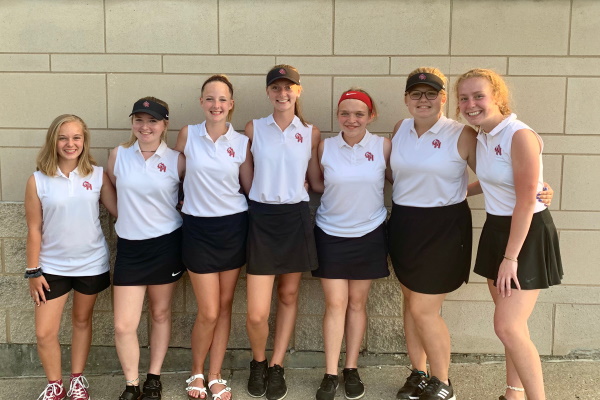 WEDNESDAY, 8/14/19
Oak Hills Varsity Girls Golf vs. Seton
Unfortunately, Oak Hills couldn't quite keep up with the impressive talent of the Seton Saints. Oak Hills lost 199 to 171. We hope to continue to improve so that when we meet up with Seton again later this season, we'll turn the results around to bring home a win!
Oak Hills: 199
Seton: 171
Sam Nuss (Soph): team medalist: 44
Sam Dudley (Soph): 50
Lucy Rankin (Fr): 51
Lydia Essert (Soph): 54
(Erin Kumler (Soph): 56)
(Lily Lang (Sr): 58)
======================================
THURSDAY, 8/15/19
Oak Hills Girls Varsity Golfer defeated Princeton on a BEAUTIFUL afternoon of golf at The Mill Course! Sophomores Sam Nuss, Sam Dudley and Lydia Essert tied for lowest for Oak Hills. Sam Dudley birdied a tough hole and Lydia chipped in from about 20 feet out! The young ladies on this team are meshing and building great friendships with each other, all while helping our opponents to enjoy the game even more! These ladies are a great representation of OHHS in the classroom, on the golf course and in the community! No doubt with this group, we are #BetterTogether !!
Oak Hills: 213
Princeton: 233
Sam Nuss (Soph): 52
Sam Dudley (Soph): 52
Lydia Essert (Soph): 52
Lucy Rankin (Fr): 57
(Lily Lang (Sr): 59)
(Maggie Stewart (Jr): 60)
(Erin Kumler (Soph): 61)